Thrive Homes becomes the first housing association to achieve certification to The Planet Mark
Thrive Home's first year of certification to The Planet Mark has seen the housing association calculate the carbon footprint of its head office operations in Hemel Hempstead.
First year certification to The Planet Mark is based on the commitment to continuous improvement in sustainability in its business operations by measuring and reducing its carbon footprint and engaging its stakeholders.
Presenting the certificate, Steve Malkin, CEO and founder of The Planet Mark commented; "Thrive Homes recognise that it is essential for housing associations to show leadership in sustainability, operate responsibly and give greater peace of mind to their tenants. The company's commitment to reducing its carbon emissions in its operations and minimising its environmental impacts is to be commended. We are delighted to award them The Planet Mark for the first time."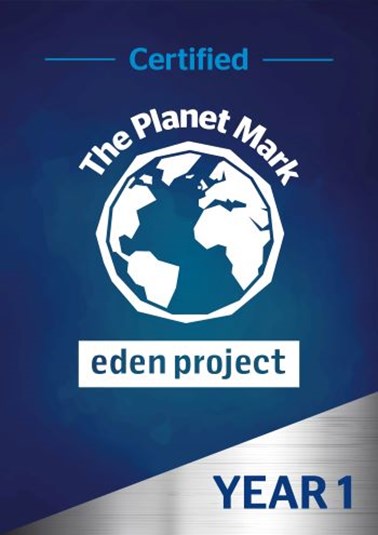 "Thrive Homes is proud to be the first housing association to achieve The Planet Mark certification. A move to new offices in October 2018 provided the ideal opportunity to review our energy usage and implement changes that reduce our carbon emissions. The Planet Mark certification demonstrates our commitment to continual improvement and creating a lower carbon future." Elspeth Mackenzie, Chief Executive of Thrive Homes.
This is Thrive Homes' first year of business carbon footprint reporting with The Planet Mark. It first calculated the carbon footprint of its head office operations in Hemel Hempstead for the year ending March 2019 and set a target to reduce emissions by 5% annually. This year's footprint includes emissions from purchased electricity and fuel used by the fleet.
Thrive Homes has achieved certification to The Planet Mark by showing good practice in sustainability including:
Measuring carbon emissions from bottled gas, purchased electricity, water, fuel and waste
Storing 260 tonnes of CO2 by protecting one acre of endangered rainforest through the charity Cool Earth
Committing to engage employees and suppliers to drive improvements
Investing in the Eden Project to support education on climate change.
Specific measures Thrive Homes has been advised to implement its 2019 targets include:
Conducting 'energy audits' will help identify where most energy is being used and potential wastage from equipment, lights and heat loss. Investigate the installation of LED, T5 and sensor lighting and the upgrade of heating controls
Arranging safe and fuel-efficient driving training for all drivers. Plan driver routes to finish at their homes
Organising annual sustainability workshops.
Carrying out a waste management audit to understand what waste is being produced and how best to segregate and recycle.