We Have Our First Creative Competition Winner!
Moving home is often a special moment for many, so we want to mark this occasion with a warm welcome from all at Thrive.
This is why we have been running a creative competition to design the front cover of a welcome card for new customers when they move into a Thrive home.
Our first winning entry was painted by Mr Hancock – a talented Thrive customer! The beautiful illustration is a watercolour painting of a property in South Oxhey with an equally beautiful story behind it.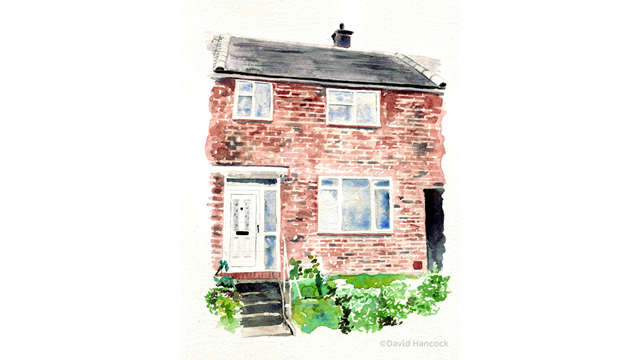 In his own words, Mr Hancock says:
"Several years ago, a work colleague asked me to paint this from a photo because it was her parents' house and she and her sister grew up there. Her parents had passed away and it meant a lot to her."
His painting was greatly appreciated by his work colleague at the time, so much so that her other family members wanted their own original version too. He ended up having to paint three!
When asked what made him enter our competition, he said "With the subject of the competition being 'home', it seemed an appropriate image to send in."
Mr Hancock, a semi-professional painter who specialises in watercolour paints and graphite drawings, creates these pieces of art as his side job. When asked the type of art he normally creates he said,
"I generally do portraits of people and pets, so this was something a bit different. Thank you for appreciating my work."
We absolutely love Mr Hancock's entry symbolising that a home is made up of much more than just the bricks and mortar; it's also all the memories and time spent with the ones we love.
We'd like to thank both MCP and edding UK for working with us on this competition and for donating the prizes enabling us to award Mr Hancock with a £50 voucher and a set of creative pens.
Are you a budding artist or know anyone who is? Whatever your age or ability, submit your artwork or photographs to be in with a chance of featuring on our new welcome cards like Mr Hancock at: thrivehomes.org.uk/creativecompetition
Stay in touch for more opportunities like this and more by liking our page on Facebook for the latest news: @ThriveHomesUK