Environmental Social Governance
2021/22 Report
At Thrive Homes, we believe operating in a way that minimises impact on the environment and promotes positive social outcomes is key to being a resilient business.
Thrive is developing its asset roadmap to ensure we have a plan for every home. This includes future investment works to ensure our housing stock is improved, to meet energy efficiency standards so it achieves EPC C by 2030 and by adopting a 'fabric first' approach, moving us towards net zero carbon by 2050.
As an early adopter of the Sustainability Reporting Standard for Social Housing we are proud to publish our first report for the 2021-22 financial year. This can be read alongside our Group Report and Financial Statements 2021-22, which provides further detail on Thrive's performance.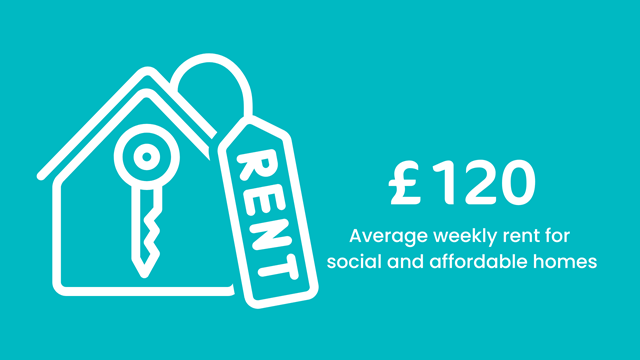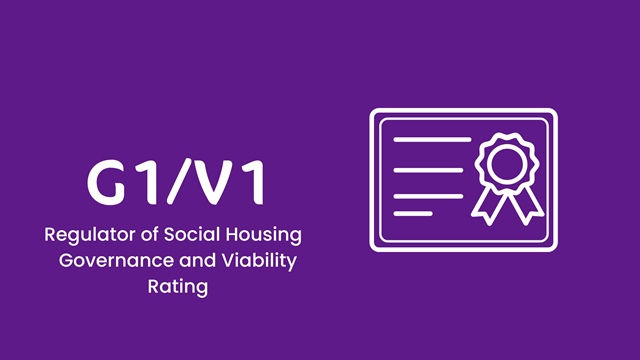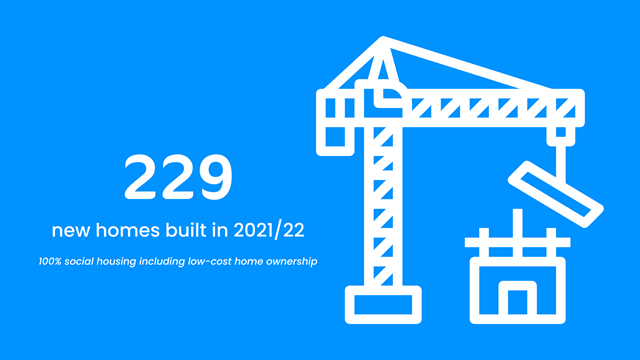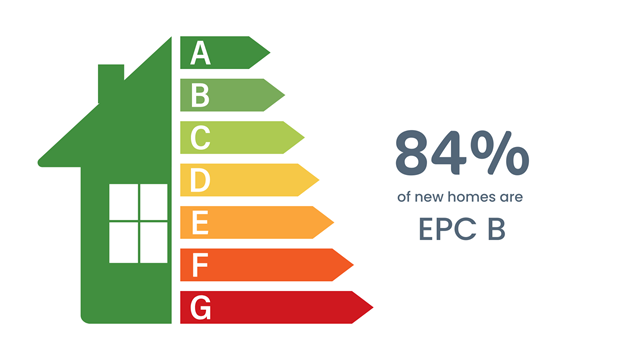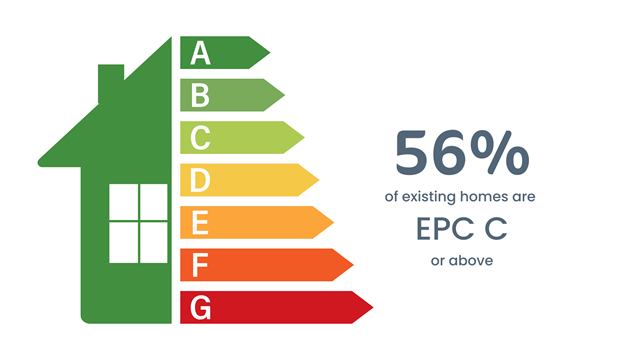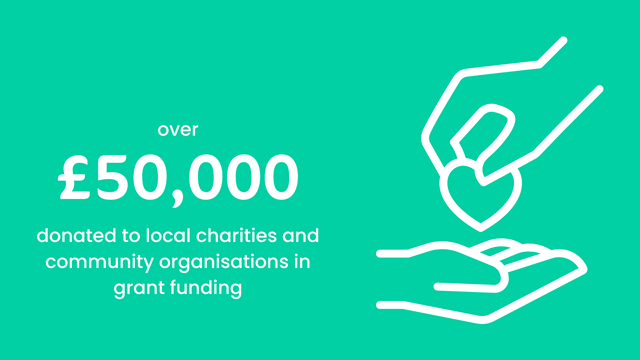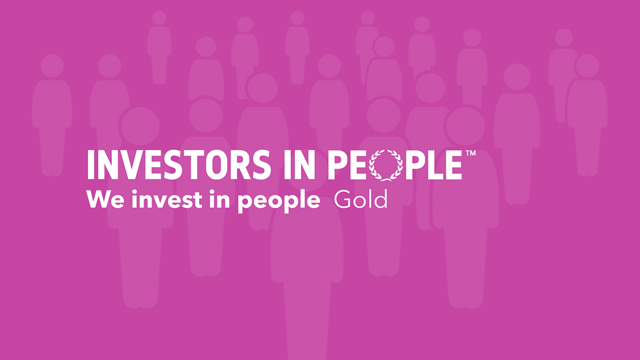 Environmental
Climate change
(SRS: C14, C15, C16, C17, C18, C19)
Achieving good levels of thermal efficiency across our portfolio enhances our customers' ability to live comfortably within their homes and enables Thrive to meet government standards.
Thrive is developing its asset roadmap to ensure we have a plan for every home. This will include future investment works to ensure our housing stock is improved, to meet energy efficiency standards so it achieves EPC C by 2030 and by adopting a 'fabric first' approach, moving us towards Net-Zero Carbon by 2050. We recognise that it will not be possible to bring every home up to appropriate standards for rental and may need to convert or dispose of these homes. We will begin reporting and creating a baseline of our greenhouse gas emissions (C16) in April 2023 using the SHIFT Sustainability Standard, or similar.
| | | |
| --- | --- | --- |
| EPC Rating | New homes (C14) | Existing homes (C15) |
| B | 84% | 7% |
| C | 16% | 49% |
| D | - | 37% |
| E or worse | - | 3% |
| No rating | - | 4% |
We are implementing new specialist software to store and analyse data collected from EPCs.  This tool allows the preparation of detailed programmes of measures (C17).  Our board has committed to meet EPC-C targets by 2030 and Net-Zero by 2050.
We have made a provision of £9m in our business plan to meet our EPC-C objectives and make progress towards our Net-Zero targets by 2030.  In addition, scenario planning has been used to assess the impact of Net-Zero on later years in our business plan.
In addition to the provisions made in our business plan, we will be applying further energy funding streams (ECO and the next phase of SHDF) during 2022/23 to support our own investment in these programmes in 2023-2025.
In 2021/22 we progressed:
with our partners, a successful application to the Social Housing Decarbonisation Fund (SHDF) securing £826,000 to install external wall insulation to 82 homes bringing them up to EPC-C
Energy Company Obligation (ECO) phase three funding to install measures in 183 homes
a targeted programme of loft insulation for 76 homes
214 energy efficient boilers were installed, and 318 homes had windows replaced
installation of air source heat pumps on a new-build scheme.
Read more about our planned maintenance projects here.
In addition, we continually engage with our customers on how to get the best out of their homes (C19) with regular email newsletters, social media updates and access to our Repairs Diagnostic tool on our website.
Social
Affordability and Security
(SRS: C1, C2, C3, C4, C5)
Thrive exists to manage housing that helps individuals and families secure a good quality, safe home that they can afford.
In the communities that Thrive operates within, it's the working families and young professionals that are suffering from our housing crisis. In south-west Hertfordshire alone we receive an average of 44 bids for every home that becomes available for letting, whilst in the same area an average price for an outright sale is more than £400,000 – meaning that both social rent and homeownership are out of reach for many in our communities.
Our response as a social housing provider has been to diversify our business model, by refocusing our homes and services where they are needed most. At a practical level, it means rising to tackle the housing crisis in all its forms - offering homes at different price points to people at different stages of their life, who may not be able buy their own home.
We're no longer "Registered Providers" delivering solely affordable homes. We're modern landlords who provide quality homes and secure tenancies that enable our customers to build and sustain good lives.
Across Thrive's 3,447 homes for social and affordable rent our median rents are: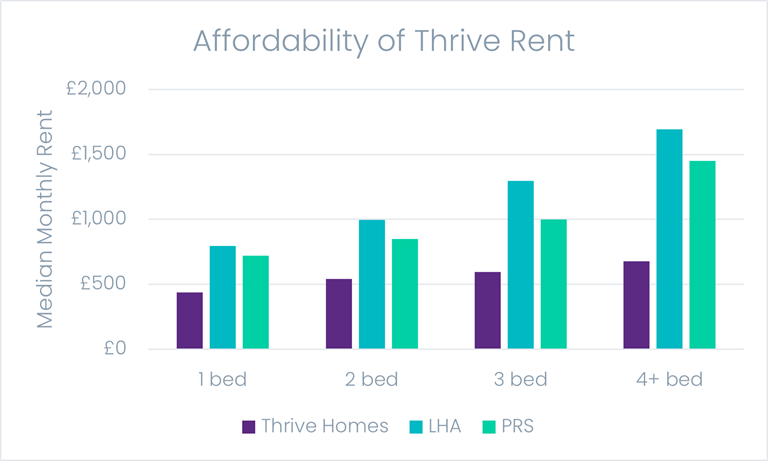 Our average weekly rent is £120

Thrive Homes Annual Report for Customers 2021/22
Thrive delivered on its ambition to grow in 2021/22 by building a record-breaking 229 new homes, placing us in the top five fastest growing housing associations in the country and marking a significant step-change in our rate of growth when compared to the 45 new homes we delivered in 2017/18.
During the year, we diversified into new tenures including Rent to Buy, a product which offers households the opportunity to rent their homes at a discount for up to five years before becoming outright or shared owners should their circumstances allow.
Tenure of homes in ownership and management
| | | |
| --- | --- | --- |
|   | Mar-21 | Mar-22 |
| Affordable rent | 281 | 285 |
| Intermediate rent | 100 | 100 |
| Rent to Home Buy | 0 | 72 |
| Social Rent - General Needs | 3,188 | 3,162 |
| Social Rent - Older People | 571 | 544 |
| Shared Ownership | 199 | 183 |
| Leaseholders | 499 | 504 |
| Managed Properties | 27 | 233 |
| Market Rent | 47 | 61 |
| Units taken out of rent debit | 33 | 30 |
| TOTAL | 4,945 | 5,174 |
Notes:
Around 25% of Thrive's rented properties have a seven-year fixed tenancy agreement or longer (C5)
In 2021/22 our co-investment partnership with CBRE's UK Affordable Housing Fund resulted in the transfer of 100% interest in just over 200 homes. As part of the deal, Thrive has taken a long (250 or 999 year) pass-through management lease with CBRE and retains a 10% economic interest in the future performance of the properties. Further details can be found in our Financial Review on page 18 of Group's Annual Financial Statements.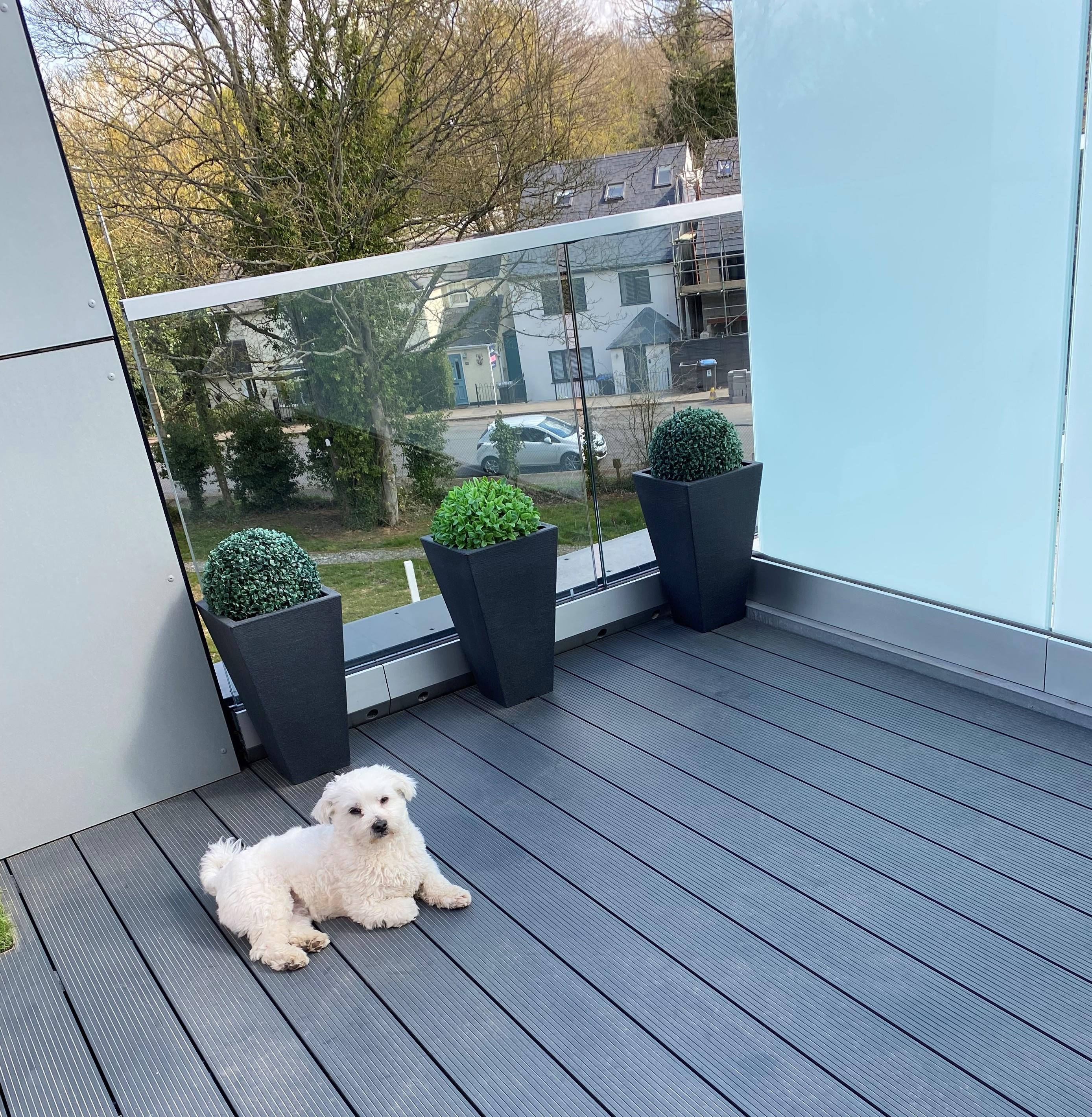 Rent to buy gives me the opportunity to own my home one day
Switching between renting and living with family for 10-15 years, Caroline wasn't sure she would ever be able to find a permanent place to call home.
Read more
Reduce the effect of fuel poverty on our customers (C4)
Thrive is undertaking several programmes that employ a fabric first approach to better insulate our properties and help mitigate rising fuel bills for our customers. We aim to install adequate loft insulation in all applicable homes by the end of the 2022-23 financial year and are committed to fill any cavity wall where insulation is suitable.
In addition, funding through wave one of the Social Housing Decarbonisation Fund (SHDF) is enabling work to begin on installing external wall insulation to homes not suitable for cavity wall insulation. Many of these consist of solid walls where insulation measures are insufficient and/or don't meet current standards. 
Building Safety and Quality
(SRS: C6, C7, C8)
Thrive's homes are mainly low-rise and of traditional construction so for most customers our focus is on gas, electrical and other safety issues within their homes. Thrive maintains programmes to ensure that these components are tested and remain safe. Some types of property present greater risks and Thrive has recently added two high-rise buildings to the portfolio that must be managed to meet the new building safety requirements. Throughout construction and handover, our teams have worked to ensure that the buildings are compliant and that systems are in place to manage these, including adopting some measures – such as the creation of building safety estate pages – ahead of legislative requirements.
The Decent Homes Standard provides the basic standard for homes within the sector and Thrive maintains this standard across its portfolio through programmes that renew kitchens, bathrooms, roofs and more. At the end of 2021/22, 99.9% of our homes achieved the standard (0.01% represents one home where works were scheduled).
| | | |
| --- | --- | --- |
| % of homes with an in-date gas safety check | 99.97% | C6 |
| % of homes with an in-date and compliant Fire Risk Assessment (FRA) | 100% | C7 |
| % of homes meeting the Decent Homes Standard | 99.9% | C8 |
Resident voice
(SRS: C9, C10, 11)
Customer engagement
Thrive believes it is important to listen to customer feedback. In 2021/22, the Board commissioned a review of our customer engagement model to make sure it is fit for purpose, ensuring we listen to all customers equally and supporting future regulatory and customer expectations.
We have been supported by Altair to rethink this model and, as a result, disbanded our Customer Experience Panel – which only represented a narrow group of customers – in December 2021 to introduce Thrive Customer Voice. This allows customers to engage with us as much or as little as they choose, when and how they want, through a range of opportunities such as customer contacts, surveys, feedback, Home Plan visits, focus groups or task and finish group-type projects. Thrive Customer Voice will receive information about how we learn from customers, use data, make changes and ensure customers know how they have influenced what we do. Read more about how this model works from the customers and colleagues involved in its creation here.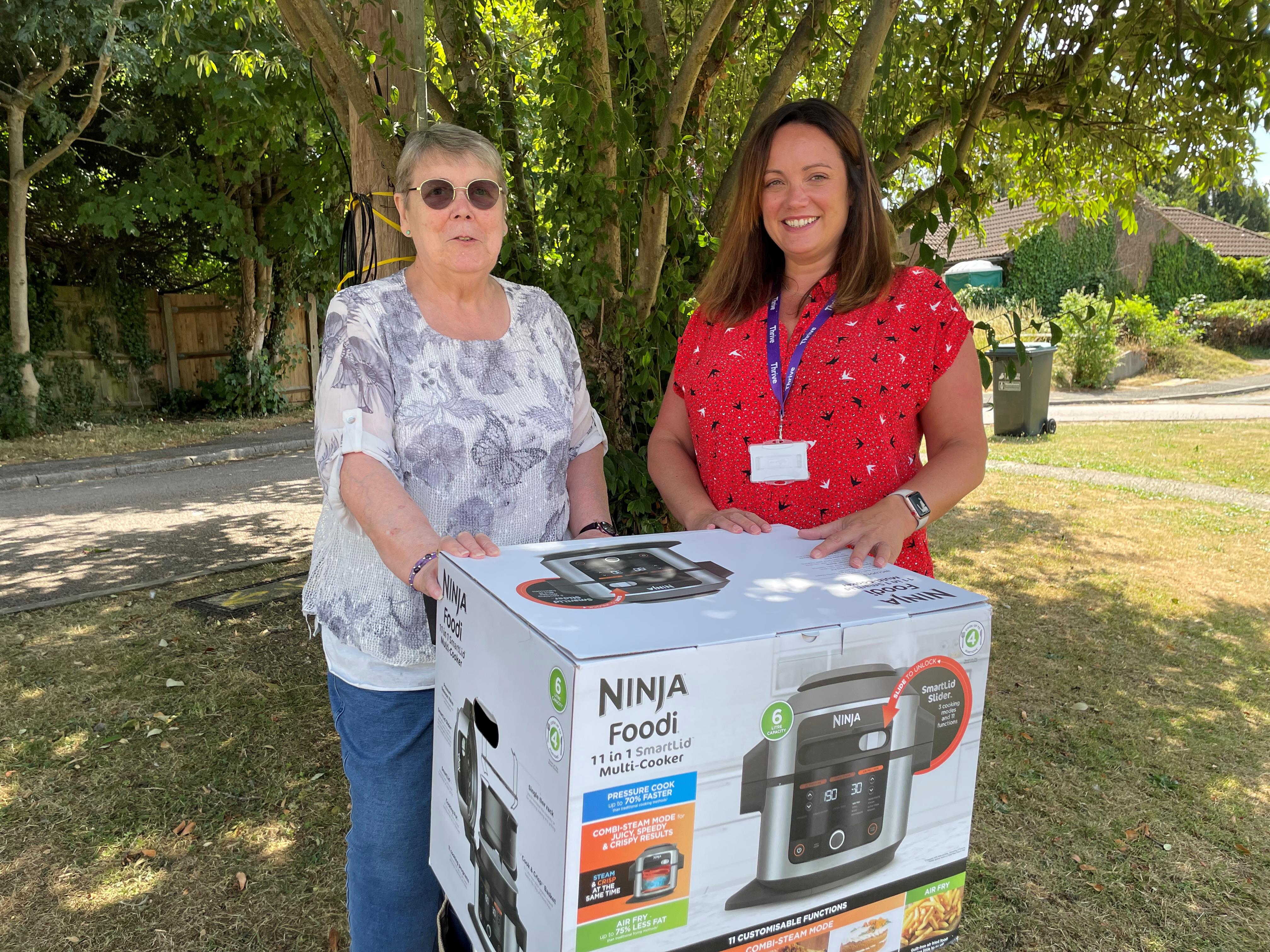 Thrive Customer Voice reflects on the success of its first activity
To celebrate the launch of our first activity customers were entered into a prize draw.
Read more
Customer satisfaction
We're proud to deliver quality services and each month we conduct several surveys to measure customer satisfaction, these include;
contented customer – a perception survey that asks general questions about Thrive services that customers have used in the last 12 months
repairs – specific questions about the quality of recent repair appointments
lettings – questions about becoming a new Thrive customer
Results are published quarterly on our website (C10).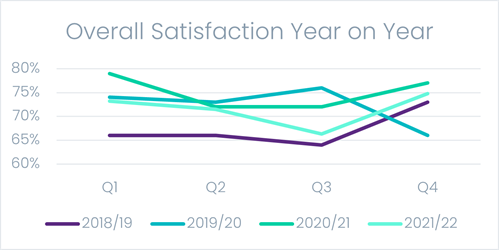 During 2021/22 overall satisfaction dipped, due to challenges with key services such as repairs, cleaning, grounds maintenance and complaint handling. This resulted in a total of 323 complaints (C11) across the year. Whilst 98% of complaints were resolved by Thrive, five were escalated to the Housing Ombudsman, resulting in one service failure determination.
Our teams worked hard throughout the year to return service delivery to appropriate levels; the contract with our repairs sub-contractor was reviewed and retendered, we increased communications with customers affected by the performance of our contractors and introduced greater contract management measures whilst ensuring we had the appropriate resources in place to respond to issues or complaints in a timely manner. As a result, satisfaction increased each month between January and March, ending the year at 74.8%.
We recognise that customer satisfaction is fragile and customer sentiment is influenced by external factors outside our control, such as the Pandemic and Brexit, so we focus on ensuring that we have delivered to the standards that we have set. Regular communications to customers provide updates on actions we've taken as a result of the feedback and complaints we receive. Read our live action log here.
Resident support
(SRS: C12)
As a business, Thrive's purpose is to provide and manage housing that helps individuals and families secure a good quality, safe home that they can afford. We partner with organisations skilled in providing other types of services and assistance to support our customers and the communities they live in.
Our community grant application scheme – Thrive GIVE – provides funding to locally based charities and community groups, enabling them to deliver projects and services that make a real difference to our customers and the wider community.
In 2021/22 we donated over £50,000 to the following causes:
Three Rivers Citizens Advice Service – delivering money advice and budgeting support within the Three Rivers area and remote support to those outside its operating area
Herts Mind Community Support Services – providing domestic abuse and community support caseworkers
9Lives Furniture – running training programmes for disadvantaged people to develop skills in furniture repair, restoration, and upcycling
Ascend Digging Deeper Project – funding a weekly volunteer gardening programme, supporting landscaping and produce-growing skills for up to 20 people at a time
New Hope's Tenancy Sustainment Project – supporting 100 vulnerable individuals and families to improve their independence and mental wellbeing so they can maintain their tenancies and avoid homelessness
Transitions UK – covering the cost of supporting one vulnerable young person at risk of offending, reoffending, or criminal exploitation for a year
Playskills Watford – supporting physically disabled children between the ages of one and five, providing expert therapy and support in a playgroup setting.
The Energy Hardship Fund
Set up by Housing Associations' Charitable Trust (HACT) the Energy Hardship Fund was established to tackle fuel poverty in winter 2021/22 amidst a 'perfect storm' of rising energy prices, rent increases, cuts to Universal Credit and the long-term impact of COVID-19.
Thrive has been working closely with Three Rivers District Council, HACT and the Citizens Advice Service in Three Rivers to assist customers suffering hardship to access energy and cash vouchers through this scheme.
Recognising that not everyone is eligible for help from the Energy Hardship Fund, additional funding was also provided to the Citizens Advice Service, through Thrive's GIVE grants, to fast track our most vulnerable customers and provide additional advice and support.
Governance
Structure and Governance
(SRS: C25, C26, C27, C28, C29, C30)
Thrive Homes is a registered, not-for-profit provider of affordable homes. It owns and manages 5,174 homes in Hertfordshire, Bedfordshire, Buckinghamshire and Oxfordshire. Thrive Homes has been growing over the years by a combination of building new homes and acquisitions from other registered providers.
Is the housing provider registered with the Regulator of Social Housing?
Yes
C25
What is the most recent viability and governance regulatory grading?
G1/V1
C26
Which Code of Governance does the housing provider follow, if any?
Regulator of Social Housing (RSH), Code of Governance 2020
C27

Is the housing provider not-for-profit?

If no, who is the largest shareholder, what is the % of economic ownership and what % of voting rights do they control?

Not-for-profit
C28
Managing Risk (C29)
Thrive uses a risk and assurance framework, aligned to the Three Lines of Defence model. This method draws assurance from operational activities, internal review to external evaluation and scrutiny.
Board have identified 13 Key Corporate Risks all of which are considered regularly by the Executive Management Team with the Board as part of the business planning process and are reviewed on a quarterly basis by the Risk and Audit Committee.
The Leadership Team (comprising the Executive Management Team and the Senior Management Team) meets quarterly and plays an active part in embedding a culture of risk awareness and risk management amongst colleagues. The internal audit function plays a critical supporting role in providing assurance to the Board, particularly through regular reporting to the Risk and Audit Committee on the integrity of the internal control environment.
In 2021/22, Thrive Homes was not subject to any adverse regulatory findings that resulted in enforcement or equivalent action (C30).
Board and Trustees
(SRS: C31 – C41)
Board and committee structure
The Association is governed and monitored by the Board working through several Board Sub-Committees and is managed by an Executive Management Team of non-voting Executive Directors (read more here). Thrive's Chair of the Board is Kate McLeod and Chief Executive is Elspeth Mackenzie (C40).
Demographics of the Board (C31-32)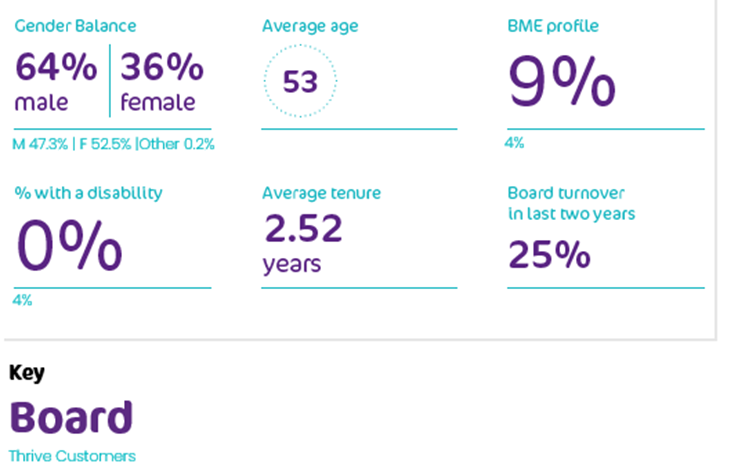 Membership
Membership of the Board is based on an evaluation of skills and experience and is made up entirely of non-executive members (C34) who are drawn from a wide background, bringing together professional and commercial expertise. All appointments to Board positions are made via an appointments panel, the maximum tenure for a board member is six years (C33) with an option to extend for another three years in exceptional circumstances. Committee membership is defined by interest and expertise as defined by the role of the committee, for example all five non-executive directors on our Risk & Audit Committee have current or previous relevant financial experience (C35).
Assurance
Board membership is reviewed on a regular basis with a skills audit identifying gaps for future recruitment or training and succession plans providing recommendations on committee roles, appointments and re-appointments. The last succession plan was presented to Thrive Homes Board in 2019 with the next update planned for September 2022 (C37) and annually thereafter.
In addition, an independently run, annual board-effectiveness review was last undertaken in February 2022 (C39) by Altair Limited and conflicts of interest are updated every six months with declarations available on our website and Companies House (C41).
Thrive's external auditor is Beevers and Struthers who have been in post for three years (C38).
Colleague Wellbeing
(SRS: C42, C45, C46)
A forward-thinking organisation creating a culture where everyone feels valued.
Thrive recognises that our people are key to our continued success and is committed to providing support and development to create an environment that attracts and retains the skills that we need.
In January 2020, Thrive Homes was the Investors in People (IIP) Health and Wellbeing Award alongside our Gold accreditation, which is reviewed on a three-yearly basis (C45).
In 2021/22, as we moved gradually away from Covid restrictions we have continued to review how we maintain a healthy working environment, recognising for many colleagues the balance of hybrid working has tipped in the direction of remote/home working. Our Safe and Well Working Group has designed and developed our Health, Safety and Wellbeing Commitment which includes our Smart Working arrangements. These arrangements put trust at the heart of our engagement with colleagues, aligned to the adult-to-adult culture we are seeking to foster.
In addition, we provide a wide range of benefits to support the wellbeing of our colleagues including;
Competitive salary - all employees are paid above the minimum real living apart from one apprentice (C42)
Generous pension
Comprehensive wellbeing programme
Flexible benefit's scheme 'myThrive Perks'
Health cash plan
View the full suite of benefits here.
In 2021/22 the average days lost due to sickness per employee was 1.03 based on a 12 month rolling average (C46).
Supply Chain
All relevant procurements include social value (C47) and environmental sustainability (C48) quality questions within the Invitation to Tender (ITT).
Thrive has a Procurement procedural playbook which sets out our approach to social value creation and environmental improvements. This is considered at all stages in the procurement cycle from the business case considering what opportunities could be available for relevant contracts, through to the quality questions in the ITT (weighted at least 10%), evaluation of the benefits, contractualising the tender promises and finally monitoring progress.
The type of social value creation is in line with the National TOMS framework areas of promoting local skills and employment, supporting growth of responsible regional business & safer more resilient communities.
Notes
Thrive Homes has chosen not to answer the following enhanced criteria due the unavailability of data at this time or sitting outside the scope for reporting. The criteria are:
C13: Placemaking
C18: Climate change – mitigating increased flood risk and increased risk of homes overheating
C20: Ecology – increasing green space and promoting biodiversity
C21: Ecology – managing and reducing pollutants
C22-C24: Resource Management
C43: Staff Wellbeing – gender pay gap. Thrive is not required to publish this result as we have less than 250 employees.
C44: Staff Wellbeing - CEO-worker pay ratio