Three Thrive Homes tenants have won a combined £2,000 in cash prizes.  
Each year, every Thrive tenant is eligible to enter Thrive's annual prize draw. The draw has been running for over five years and was setup to recognise the positive relationships Thrive has with its customers.
Thrive wants to extend this opportunity to as many tenants as possible, so we're reviewing the draw which means this year's winners are the last in its current format.
This year's draw saw top prize winner, Mr Aker, scoop £1,000 by utilising Thrive's digital services to manage his account. Delighted to have won, he says: "I think the myThrive hub is a very good tool and is super easy to use!"
Following a successful launch of the myThrive hub in October 2020, 34% of Thrive customers are now managing their account online. Anne Bijum, Assistant Director – Customer says: "We have been working so hard to make sure accessing our services is easy, and we're really pleased to see customers enjoying using the myThrive hub. We couldn't have done this without the input of customers, so we'd like to thank everyone who has been involved and encourage you to come forward if you have any feedback!"
Thrive offers a number of ways for customers to give feedback, and the easiest way is at: thrivehomes.org.uk/feedback
Ms Ball, who received a £500 prize said:
 "What a lovely surprise! I'm very pleased and shocked to have won – with such a difficult year in lockdown, I'm looking forward to treating my children. Thank you, Thrive Homes!"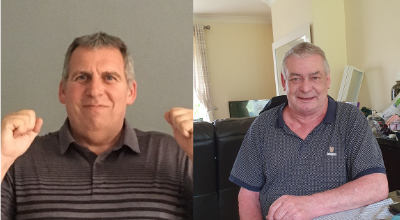 Thrive is keen for customers to get involved in the redesign of the annual prize draw. If you have any ideas, input or would like to be involved we'd love to hear from you! Find out more at: thrivehomes.org.uk/prizedraws