Thrive Homes partners with Endo Enterprises to provide heating energy savings for tenants
16 November 2023
Thrive Homes has announced a new partnership with Endo Enterprises to provide and install the energy-saving additive EndoTherm to approximately 2,800 homes.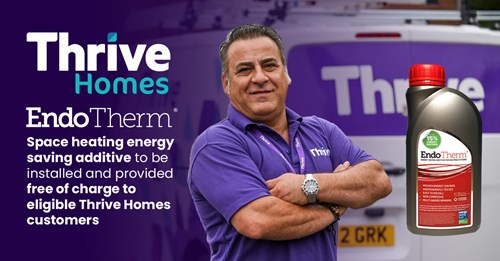 EndoTherm is an innovative product that can be quickly installed into existing wet heating systems to reduce the energy needed to heat a home by up to 15%.
As part of routine gas safety visits, engineers from Thrive Homes Services (THS) will be rolling out EndoTherm installations across its eligible housing stock. The installation will be performed free of charge and will assist customers struggling with the cost of living and high energy prices.
"Improving the energy efficiency of our homes is a key priority for us," said Elliot Nicholls, Sustainability Lead at Thrive Homes. "This partnership with Endo Enterprises allows us to take meaningful action on affordability for our customers, while also reducing carbon emissions from our homes. We're committed to exploring innovative sustainability initiatives like this to benefit both our customers and the environment."
This partnership represents a milestone for both organisations in addressing affordable living and environmental concerns together.
"We are proud to partner with Thrive Homes on this major initiative that will benefit so many people," said Benjamin Sallon, Managing Director at Endo Enterprises. "EndoTherm is specially designed for fast, non-disruptive installation that makes it feasible to scale across thousands of homes. The Thrive roll-out demonstrates how our product can enable housing providers to take real action on improving energy efficiency and affordability for their tenants."
Both organisations are enthusiastic about the positive impact this collaboration will have for customers struggling with rising energy costs. It demonstrates a promising path forward for social housing providers seeking to improve sustainability, help customers reduce their bills, and continue to create affordable, energy-efficient homes equipped for the future.