Celebrating Thrive's 12th Birthday
Leading professional landlord, Thrive Homes is celebrating its 12th birthday today (Thursday 19th March).  
The Home Counties-based association will mark the milestone by celebrating virtually while the organisation continues to ensure the health and safety of its staff and customers during the COVID-19 pandemic.
Since 2008, Thrive Homes has provided 5,000 much-needed affordable homes across Hertfordshire, Bedfordshire, Oxfordshire and Buckinghamshire. Thrive's commitment to an ambitious acquisition and growth strategy is playing a vital role in helping meet the increasing demand for new quality homes as the Oxford-Cambridge Growth Arc area continues to level up and compete as a global technology hub.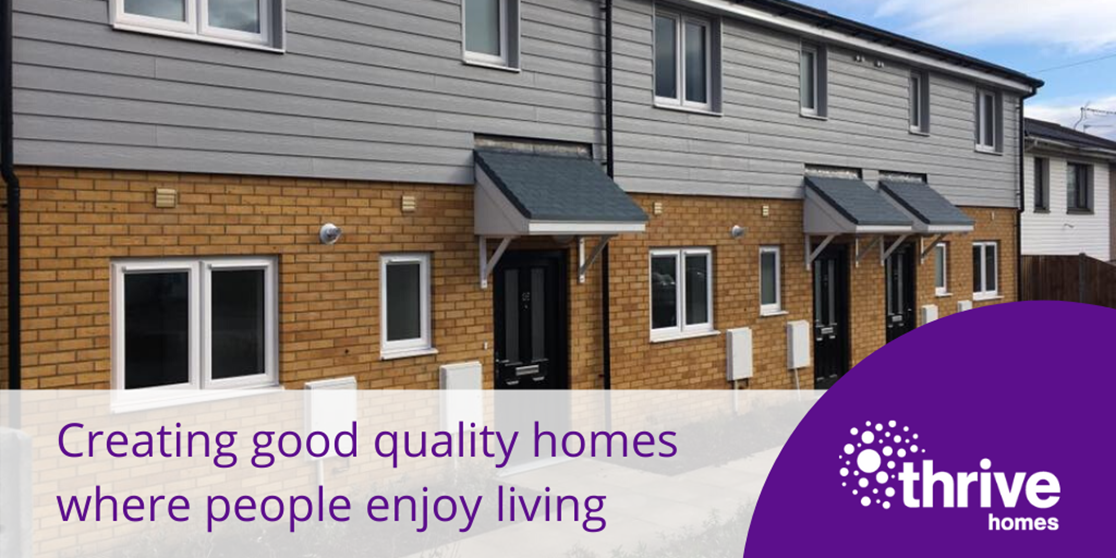 Recently completed homes for shared ownership and social rent in South Oxhey, Herts.
From the 13th March, Thrive Homes has taken great precaution to ensure the health, safety and wellbeing of its staff and residents by moving to remote working where possible in the midst of the global health pandemic.
Thrive Homes' chief executive, Elspeth Mackenzie said: "I am delighted to celebrate our organisation's 12th birthday.
I am immensely proud of all employees across our organisation for working hard to provide affordable homes that enable people and families to sustain a good quality of life.
Over the year, we have met many milestones. We provided 115 new homes in our operating areas with 90% of them being affordable. Our recent survey recorded that 91% of our customers are satisfied with our repair services while almost 80% of our residents agree that their rent provides good value for money. We have a number of developments in our pipeline that will complete before we turn 13 and I'm looking forward to continuing to drive towards our mission."