A new home for thriving Milton Keynes gymnastics centre
Proposals brought forward by Thrive Homes, Milton Keynes Community Foundation and Milton Keynes Gymnastics to build a state-of-the-art sports facility and 33 new homes, are set to be submitted to Milton Keynes Council later this month.
The redevelopment project plans to move the existing Milton Keynes Gymnastics Centre at the Kingston Centre to Fen Street and expand the facility to allow the continued growth. The new Gymnastics and Table Tennis Centre will feature a modern, purpose-built gymnasium, a dedicated space for Milton Keynes Table Tennis Club, an on-site café and a community centre with plenty of parking space.
The transformative proposed scheme will also see the creation of 33 new wheelchair adaptable homes, of which 10 will be affordable.
Thrive Homes, one of the driving forces behind the proposals, is one of the area's leading housing associations, owning and managing around 5,000 homes across the home counties. The professional landlord helps to deliver much needed affordable homes in some of the UK's most expensive places to live.
Jack Burnham, development director, Thrive Homes said: "We are delighted to be bringing forward these proposals to Milton Keynes Council for this exciting project. The development will create a first-class sports complex and help deliver much-needed homes to the area, with a proportion being affordable".
"Our proposals have been developed in consultation with the local community and it is great to see that 98 per cent of those who submitted feedback support the proposals".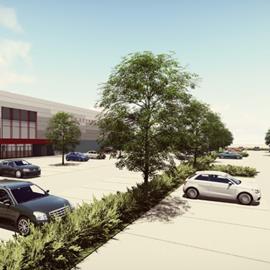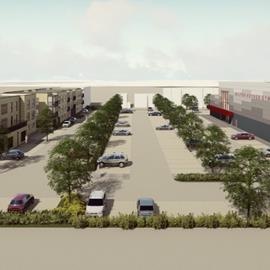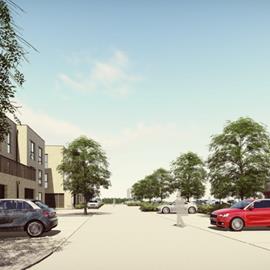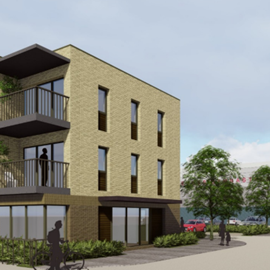 Click to enlarge
The Milton Keynes Gymnastics Centre is one of the biggest sports centres in the country and home to regional and international champions. To best accommodate the world-class events and allow room for non-competitive activities for local children, Thrive Homes and organisations across Milton Keynes are working together to create a sports complex with the highest specifications. The new Centre will improve quality of life and further promote community and well-being in Milton Keynes, which was named by the European Cities and Capitals of Sport Federation (ACES Europe) as a European City of Sport for 2020.
Ian Revell, Chief Executive, MK Community Foundation said: "This development fulfils our long-term ambition to build top-class community facilities in all areas of the borough and this project will bring gymnastics, table tennis and a community hub office to the centre of Brooklands.
"We are delighted the centre will provide activities for all ages and will help build the great community spirit that MK is so proud of. It is a project of true partnership that remains central to the MK 2050 vision of our wonderful city and borough".
The proposals are set to go before Milton Keynes Council's Planning Committee later this month and if approved, construction will commence in 2021 with a plan to open the facility in 2022.