How Thrive strives to #BreakTheBias
The theme for this year's International Women's Day is 'break the bias' and as explained on the official website…
'Imagine a gender equal world. A world free of bias, stereotypes and discrimination. A world that's diverse, equitable, and inclusive. A world where difference is valued and celebrated. Together we can forge women's equality.
Collectively we can all #BreakTheBias.'
We agree that everyone has a role to play in forging gender parity.
As an employer, Thrive prides itself in creating an inclusive environment that enables everyone – regardless of gender – to have equal opportunities for personal development.
We recognise the importance of attracting and retaining talent. We have a strong record for hiring and promoting women by actively encouraging equal opportunities to ensure the right person for the job.
So how do you create an inclusive environment?
At Thrive, we believe you start with your colleagues, ensuring everyone has an opportunity to be heard and direct the future of the business. In September 2020, we established our internal working groups to create a collaborative, open way of working with a cross-section of individuals reviewing policies and recommending improvements across all aspects of the business.
Specifically, our AllTogether @ Thrive Working Group provides feedback on and continually drives forward our approach to equality, diversity, and inclusion. Whilst our Great Place to Work Group is focused on understanding how we can continue to improve everyone's experiences at work. The Groups provide invaluable feedback on a range of opportunities and benefits, including:
Smart Working – where the option to work from the office or from another suitable location is yours (provided you are in a role that enables you to do this).
Flexible start and finish times, with core working hours from 10am to 3pm, enabling colleagues with caring responsibilities to adjust the day as they need to.
Generous holiday (25 days a year plus an extra day for every year served, up to 30 days) helps employees maintain a healthy work-life balance. With flexible benefits ('buying/selling' holiday) this can be increased to 35 days.
Health cash plan which can be extended to cover families.
The use of Lumina Spark profiles across the business, which allows us to better understand each other and improve collaborative working.
Our ethos is that everyone works together as one team #OneThrive. We trust our colleagues to get the job done and deliver results and pride ourselves on our open, supportive and creative working environment. This includes identifying and nurturing individuals with leadership potential, helping to raise their profile, improve their skills and widen their experience.
Led by our Chief Executive Elspeth Mackenzie, Thrive currently employs 145 people and we are in the process of recruiting an additional 25 roles to support our ambitions for growth.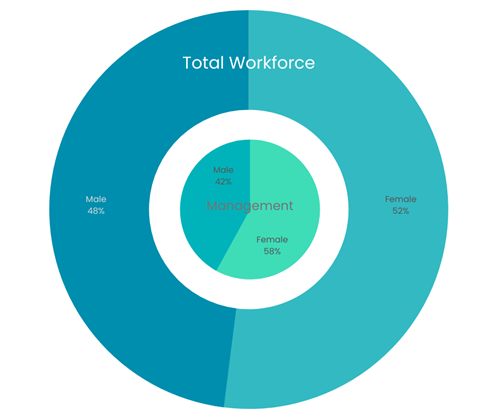 The ratio of colleagues in our management roles and leadership team bears testament to how our culture encourages equality. Yet it can't stop there. It is important to acknowledge that the work is never done. Only by continually listening, learning and improving can we create an environment where everyone feels valued and able to speak out so that together we can help #BreakTheBias.